Movies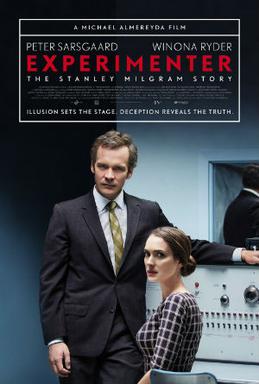 Experimenter (2015)
Experimenter (2015)
Director: Michael Almereyda
Writer: Michael Almereyda
Stars: Peter Sarsgaard, Winona Ryder, John Palladino, Anthony Edwards, Jim Gaffigan
Peter Sarsgaard plays Dr. Stanley Milgram who in 1961 performed a series of experiments where unwitting subjects asked another person questions and shocked them with up to 450 volts of electricity for each wrong answer. The fact was, that no one was actually shocked. The "shockee" (or learner) was behind a wall and the "shocker" (or teacher) was instructed to continue to shock the learner as long as they got the answer wrong.
In the experiment, the "shockee" would complain loudly of pain, even begging for help. If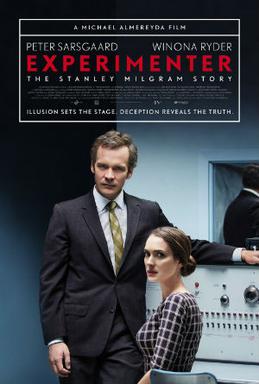 the "shocker" asked the director to stop, they would be blithely asked to continue. The conclusions of the test were that people would do what they were told in the face of authority.
The show is shot in a unique fashion. They purposely used flat murals and old 16mm backgrounds to simulate driving giving the film a period-piece feel by using period filming techniques. Also, there's a scene where Milgram is talking to the screen while walking the halls of Harvard – with an elephant walking behind him. Possibly that's the "elephant in the room?"
Experimenter re-raises some old questions about using human subjects in psychological experiments. Since the subjects were "fooled" into the situation, they had no control over how they were treated. And, they may have suffered adverse affects due to the stress of hurting another person under perceived duress.
This film went to great pains to show that "no one was harmed" in the study. They even went so far as to show Milgram enjoying an episode of "Candid Camera" where people faced the back of an elevator to induce conformity. (Interestingly, there was no mention of his friendship and collaboration with high school chum Philip Zimbardo of the famed Stanford prison experiment from 1971. The two were fans of Alan Funt's show).
In the end, Experimenter is an interesting look at the work of a man who uncovered startling truths about the psychology of modern man. It begs the question – is there a 'banality of evil' in each of us. Unfortunately, the story is told as a fictionalization that makes us very aware that we're looking at a movie. Ironically, it casts some serious shade on a 1975 fictionalization of Milgram's work staring William Shatner (The Tenth Level). Milgram was apparently so upset with the work that it threatened his marriage.
To this day, Milgram's work is required reading in psychology curricula – despite the fact that modern standards would never allow their reproduction. Many scientists dispute the results – despite Milgram's repetition of the experiment in several countries which all come to the same conclusions.
Is there a "banality of evil" in each of us? This film doesn't try to answer that question. It only attempts to set the record straight on Milgram's research methods and their benign effects on its subjects. However, it is notable that Philip Zimbardo who came to similar conclusions as Milgram after his Stanford prison experiment, now proclaims a "banality of heroism" in each of us and is a leader in the Heroism Science community.
From a storytelling point of view, Experimenter is very non-standard. It straddles the line between documentary and fiction. Having the protagonist talk to the screen gives us an immediacy you don't normally get in a movie. But it also opens the opportunity for Milgram to be an "unreliable narrator". So, it comes off as a sort of "Milgram apologetic" – validating his work.
Recommendation:
See it now
✔️See it eventually
Good cure for amnesia
Skip it